Wynyard Homes wins quality award for flagship North Yorkshire development
​
 Housebuilder Wynyard Homes is celebrating a second quality award win for its flagship development of luxury homes on an 11-acre stretch of private parkland in North Yorkshire.
Copperfield Park, a development of 25 high-specification, executive properties in Middleton Tyas, has been presented with a coveted Quality Recognition Award by structural warranty provider Premier Guarantee.
The award recognises the consistent high quality of workmanship and site management at Copperfield Park and places it in the top 2–3 per cent of all UK developments assessed for quality and excellence by Premier Guarantee. 
Barry Miller, Managing Director of Wynyard Homes, said: "This is the second Quality Recognition Award presented to our flagship Copperfield Park site and everyone is absolutely delighted. Each award not only recognises the first rate quality of the ongoing build, but is also a great compliment to the team on site, who work to exceptionally high standards.
"The homes we are developing against the beautiful backdrop of Middleton Tyas are designed and finished to a very high spec, and this accolade acknowledges the ethos of Wynyard Homes to deliver award-winning quality at every stage of a development, from start to finish."
Surveyors at Premier Guarantee have periodically assessed the Copperfield Park development since the start of the project, and awarded high marks for the standard of site management, workmanship, health and safety, site tidiness and the cooperation of the site team.
Premier Guarantee presents, on average, just five Quality Recognition Awards each month to building projects of all sizes throughout the UK. Developments have to score at least 4.6 out of 5 when judged on all aspects of the build over a six month period.
Dan Hodgson, Premier Guarantee's Business Account Manager for the North East and Scotland, said: "Wynyard Homes' Copperfield Park site is a very worthy award winner, having demonstrated consistently high quality workmanship and site management over the months.
"The bar is set very high and Copperfield Park now sits in the top 2 to 3 per cent of all projects we assess across the UK. It's a shining example of a development that not only sets exacting standards but lives up to them."
Copperfield Park consists of 25 large, detached homes with extensive gardens, set in 11-acres of parkland. The houses boast a number of traditional features, including porticos, slate roofs and sash windows, and have been built using many locally-sourced materials. The 3,4,and 5 bedroom properties have been carefully designed with a balance of contemporary and traditional elements to provide unrivalled comfort and luxury.
It is one of three ongoing developments by Wynyard Homes in the North East, with other sites in Hartlepool and East Rainton, Durham. The award-winning housebuilder has upwards of seven proposed developments in the pipeline. 
Copperfield Park will now be considered for Premier Guarantee's annual Excellence Awards. Further judging will take place in early spring and winners, showcasing the very highest standards, will be announced in summer.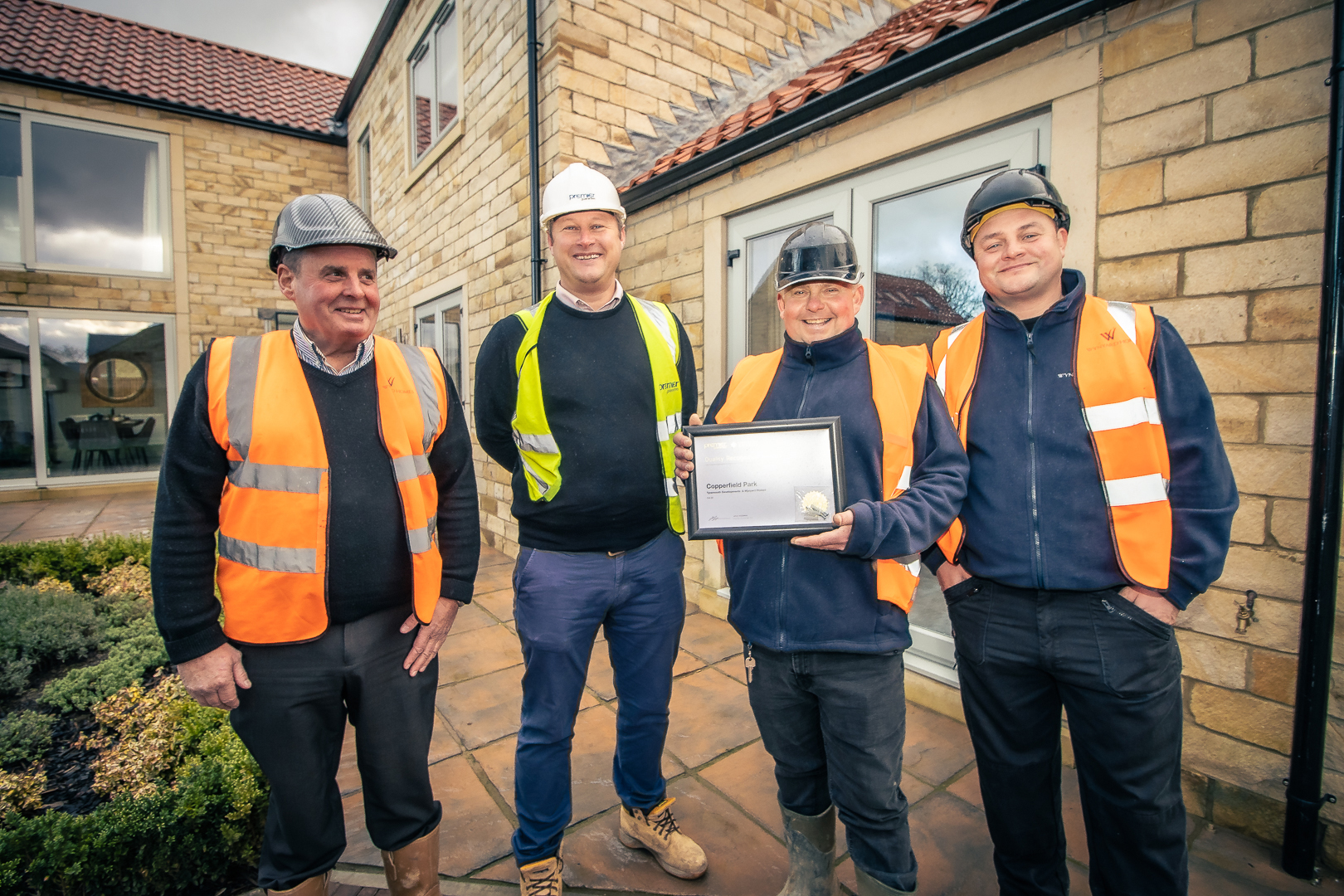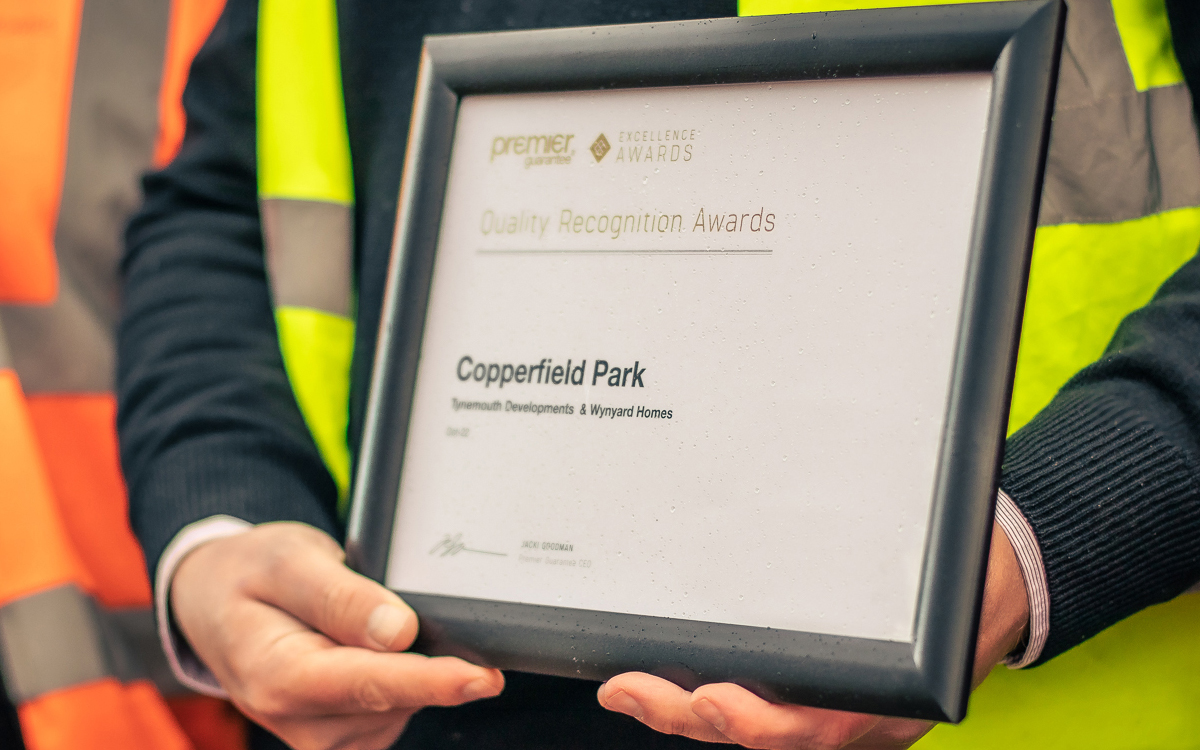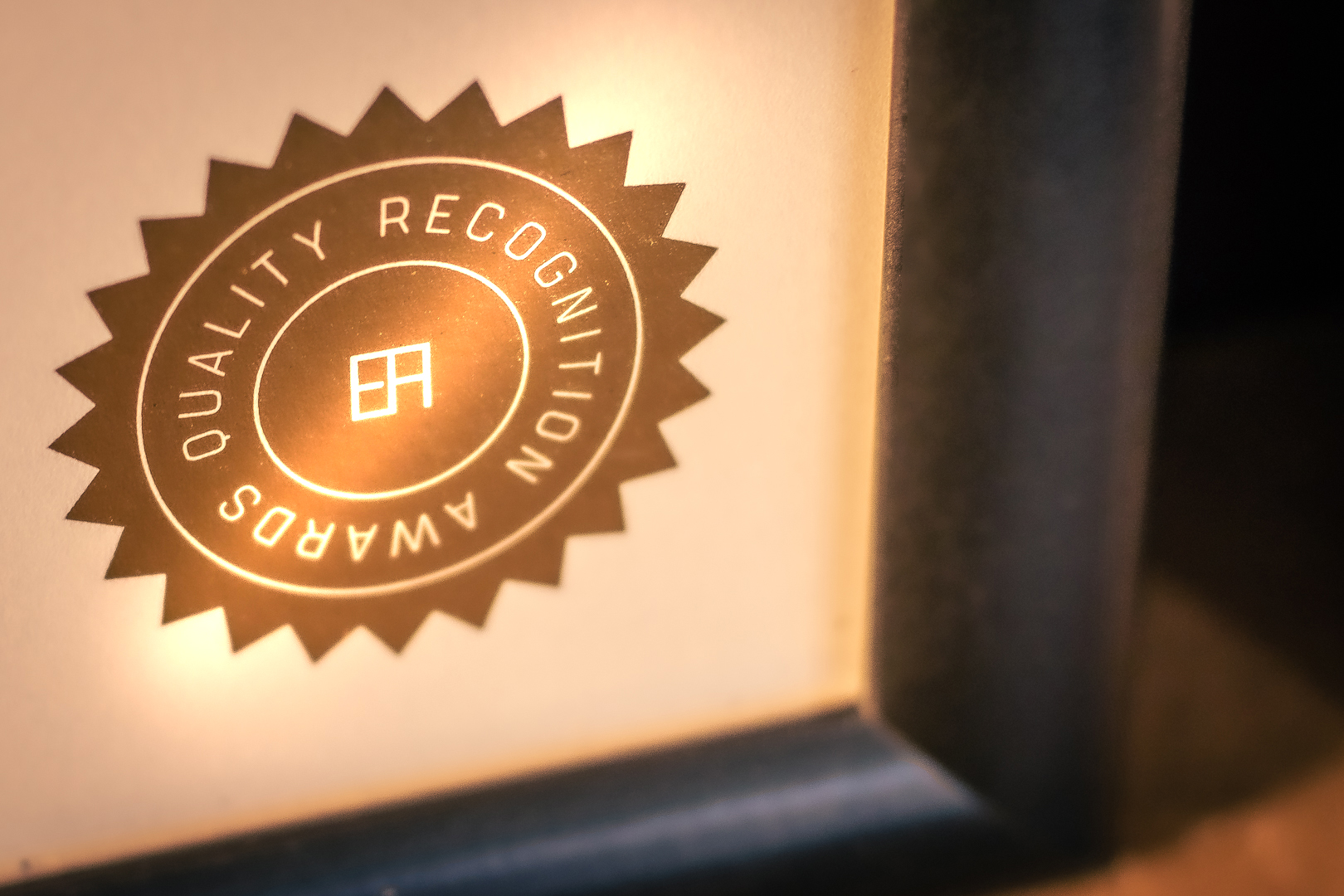 Why choose Wynyard Homes?
We anticipate the needs of home owners and are committed to delivering them to the highest standards of construction and service. We take great care in selecting our sites and researching the surroundings of our developments. Each one of our home designs is planned for its intended environment.
All of our individually designed homes feature superior quality materials and highly-specified interiors including carefully sourced modern fixtures and fittings that provide both functional, and stylish living. Our innovative and dynamic approach to our designs result in a far higher specification than is found in comparable developments.
While quality is our priority, our homes are offered at a very affordable price. We offer a wide range of assisted packages, incentives and mortgage services to suit your needs. On selected homes and developments, we will pay 5% of the purchase price toward the deposit requested by your lender. Whether you are a first time buyer or an existing home owner, our experienced staff will help you move into the home of your dreams, stress-free, and swiftly.
Long-term customer satisfaction is key to our success, and we ensure that we take care of you at every stage of buying your new home, and just as importantly, after you have moved into the property.
Our Pledge to you from Wynyard Homes
At Wynyard Homes we believe that Customer Care should not finish once you have moved into your new home. We have therefore developed an after sales service, which we hope will give you peace of mind
First 48 Hours
Within the first 48 hours of taking up occupation of your new home we would ask that the following items are inspected for significant damage:
Kitchen units including worktops and sinks.
Sanitary ware and bathroom fittings.
Wall tiling.
Doors and windows including frames and glazing.
Electrical and gas appliances.
Any floor coverings supplied by Wynyard Homes.
Roof tiles.
You will appreciate that we have to place a time limit on these items before every day wear and tear takes place.
Courtesy Call
Should we not hear from you regarding any damage within the first 48 hours we shall endeavour to give you a courtesy call, shortly after legal completion to ensure that all is well and that you are settling into your new home. Should you have any questions at this point we will be more than happy to answer them for you.
7 Day Inspection
On legal completion we will provide you with a 7 day inspection form for you to detail any minor items that you would wish us to attend to that you have noticed whilst settling into your new home. Our Surveyor has thoroughly inspected each property at the various stages of build, we therefore do not ask you to do a detailed inspection of the whole property, although anything significant that you do find should be noted.
Our Sales Co-ordinator will make a mutually convenient appointment with you and call to discuss and view any items mentioned on your list. We will then endeavour to complete any works required as soon as possible, causing you very little inconvenience.
First two years Warranty – Builder Obligation
We will be responsible for maintenance of any MAJOR defects which may occur within the first two years of occupation. We will not be liable in any instance for wear and tear of items, deterioration caused by neglect or failure to carry out normal or specific maintenance. Dampness, condensation or shrinkage not caused by a defect. Damage caused by alterations or extensions to your home.
Code of Conduct
We care very much about our customers and know that your will expect the highest levels of service and customer care therefore; we have produced a Customer Charter to ensure that you know what to expect from us and how seriously we take our responsibilities to you..
How will I know whether I can afford to buy a property?
A Financial Advisor recommended by Wynyard Homes, your bank or someone who you already know and trust will talk you through your income, expenditure and savings which will enable them to calculate your affordability and amount of deposit you will need to purchase.
What is a credit score?
Before any reservation can be taken we always ensure that a credit score is run and that a decision is agreed in principal, by a mortgage provider. This is the lender saying that subject to confirmation of what you have already advised them and valuation, they are happy to lend to you.
How much deposit/savings will I need?
This will depend upon the purchase price and the buying scheme that you may be using. The minimum amount that you will need in savings is at least 5% of the value of your new home, although some lenders may require you to have more.
What is a reservation fee?
A reservation fee is paid to secure your chosen property at the price agreed for a fixed period of 6 weeks. This fee is deducted from your deposit on Exchange of Contracts in the 6 week period and is refundable should anything go wrong with your house purchase.
What is conveyancing and who will carry this out on my behalf?
You will need to instruct a Solicitor or Conveyancer to complete the legal paperwork relating to your new property purchase once you are ready to commit to purchase your new home. It is always good to shop around or to use a recommended Solicitor/Conveyancer as fees do vary.
When will I be able to move into my new home?
For a house which is build complete it is possible to move within 4 to 6 weeks. This is obviously subject to receipt of your mortgage offer and all legal paperwork being completed. Should your new home be under construction the same applies as above, though we will advise you of an approximate date upon reservation and keep you advised at regular intervals throughout the build process.
Will I be able to have a look around my new home before legal completion?
Yes. You will be invited to a home demonstration, where we will show you the workings of your home. Every care will have been taken to ensure the highest standard of finish; therefore this is not for you to carry out a detailed inspection of the whole property, although anything significant that you do notice will be attended to.
What warranty is available with my new home?
You will receive a 6 year warranty with your new home which guarantees the build quality and structure of your new home. Together with a 2 years builders obligation responsibility for the maintenance of any major defects which may occur during this time.
Who do I contact if I have an emergency in my home?
Upon legal completion we shall issue you with a list of emergency telephone numbers, just in case!
Website terms of use
Welcome to our website. If you continue to browse and use this website, you are agreeing to comply with and be bound by the following terms and conditions of use, which together with our privacy policy govern Wynyard Homes' relationship with you in relation to this website. If you disagree with any part of these terms and conditions, please do not use our website.
The term 'Wynyard Homes' or 'us' or 'we' refers to the owner of the website whose registered office is Wynyard Park House, Wynyard Business Park, Wynyard, Stockton-on-Tees, Billingham, TS22 5TB.  Our company registration number is 07757320. The term 'you' refers to the user or viewer of our website.
The use of this website is subject to the following terms of use:
The content of the pages of this website is for your general information and use only. It is subject to change without notice.
This website uses cookies to monitor browsing preferences.
Neither we nor any third parties provide any warranty or guarantee as to the accuracy, timeliness, performance, completeness or suitability of the information and materials found or offered on this website for any particular purpose. You acknowledge that such information and materials may contain inaccuracies or errors and we expressly exclude liability for any such inaccuracies or errors to the fullest extent permitted by law.
Your use of any information or materials on this website is entirely at your own risk, for which we shall not be liable. It shall be your own responsibility to ensure that any products, services or information available through this website meet your specific requirements.
This website contains material which is owned by or licensed to us. This material includes, but is not limited to, the design, layout, look, appearance and graphics. Reproduction is prohibited other than in accordance with the copyright notice, which forms part of these terms and conditions.
All trade marks reproduced in this website which are not the property of, or licensed to, the operator are acknowledged on the website.
Unauthorised use of this website may give rise to a claim for damages and/or be a criminal offence.
From time to time this website may also include links to other websites. These links are provided for your convenience to provide further information. They do not signify that we endorse the website(s). We have no responsibility for the content of the linked website(s).
Your use of this website and any dispute arising out of such use of the website is subject to the laws of England, Northern Ireland, Scotland and Wales.
"I was looking for something 'executive' and I wanted something really, really good – detached, double garage, long drive. Having bought from home builders in the past, I'd say the build quality is far superior – definitely better materials, and the home is immaculate. For the investment, it was a no-brainer. Absolutely Perfect."
Gavin Wise
"Amazing best home i have ever bought. The standards are beyond high. 5 class. 100% buy again."
Rachel Hoskins
"Homes are beautiful. Amazing standard. I would highly recommend the service and experience of the team at Wynyard."
Joanne Odgers
"I would highly recommend Wynyard Homes to anyone looking for a new home. The sales team were absolutely fantastic and made the whole process very easy. Since moving into my new home I've had no problems at all and I love it. The fixtures and fittings are to a very high standard and living here has been a joy. I'd just like to say a massive thank you to everyone at Wynyard Homes for all their help and for providing me with a fantastic home to live in."
Gary
"We are loving our new house. Excellent quality and finish. So impressed with the level of service throughout. So happy we recommended the development to our best friend who also bought around the corner."
Sheila and Dave
Current Opportunities
There are currently no vacancies available. Please check back here regularly.
Wynyard Homes is a dynamic company working in the North East Housing Sector, striving to bring quality affordable housing to the region. We value collaborative working and encourage active staff participation and input in all that we do. If you share our values of professionalism, integrity and a strong work ethic then there's no limit to what you can achieve working at Wynyard Homes.
People are our greatest asset and we recognise that they are vital to our continuing success. We aim to attract and retain talented, dedicated people to join our team. In return, we will provide you with support and the opportunity to develop your skills and experience.